WE ARE NOSOTROS
Nosotros was founded by Hollywood legend Ricardo Montalbán in 1970, on the notion that unity serves as a strong voice of change and opportunity for Latinos in the entertainment industry.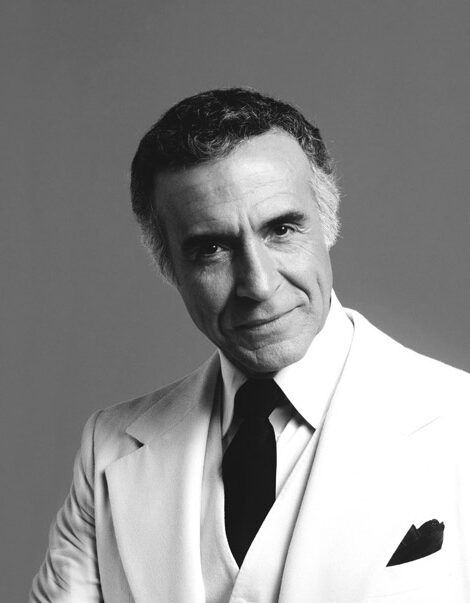 Remembering Ricardo
Montalbán, considered an iconic figure within the Latino community, nurtured an acting career that spanned more than 60 years. He appeared in more than 100 films, plays and TV shows.
Born in Mexico, he once told the Associated Press, he felt gratitude towards his adopted country and to the American public, "which has always been very warm to me", even more so after a seven-year run as Mr. Roarke in the hit television series "Fantasy Island."
Despite having a successful career in Hollywood, Montalbán was vocal about the real problems in Tinseltown, especially in regards to matter of race.
Montalbán, who won an Emmy for his role in the television mini-series "How the West Was Won", said directors rarely let him go beyond the role of a Latin lover or the bandit, and that Mexican actors have a tough time getting significant roles in the industry. It was this discrepancy that led to the creation of Nosotros.
How it All Started
In 1970, over a cup of coffee in a Los Angeles cafeteria on the corner of Beverly and La Cienega Boulevard, Montalbán met with Gilbert Avila, Robert Apodaca, Luis De Cordoba, Val De Vargas and Rodolfo Hoyos, to strategically change the stereotypical image of Latino actors in Hollywood.
Nosotros, "We" in Spanish, has for the past 50 years provided a diverse and accessible range of performing and media arts programs to help increase the visibility of Latinos in front and behind the camera. Its original board included Desi Arnaz, Vicki Carr and Anthony Quinn, and it became a training ground for actors such as Edward James Olmos, Salma Hayek, Lupe Ontiveros and Eva Longoria.
"Ricardo Montalban's mission was for Latinos to be heard," said Joel M. Gonzales, film producer and current president of Nosotros, since 2010. "Over the years, the organization has been able to positively impact the Latino community. We've been able to provide tools and the proper education for members to learn how to approach the entertainment industry. We all have a story to tell. " Adding, "Not everyone wants to be an actor or director, some people want to go into finance or marketing, so our job is to create workshops and panels to help guide future generations down a successful path."
The Theatre
In 1999 the Ricardo Montalbán Foundation was established and subsequently, the foundation and Nosotros purchased a landmark theatre in Hollywood on the corner of Sunset and Vine.
The theatre was owned by Howard Hughes in the early 1930s and purchased in 1954 by philanthropist Huntington Hartford. It was named Doolittle Theater at the time of purchase and officially renamed Ricardo Montalbán Theatre in 2004.
"You can imagine. It's a dream a come true," Montalbán said in an interview with The Associated Press in 2004. "With this theatre we can do a lot of positive things, not only for Hispanics but for better understanding among all of us."
Montalbán initially refused to name the Theatre after himself but later agreed.
"Having my name in the marquee sends a message to the Hispanic community, 'Look, it can be done,"' Montalbán said. "It's a great honor."
The opening of the Ricardo Montalbán Theatre marked the inauguration of the first major theatrical venue of its size to be founded and named after a Latino artist in the United States, according to Hilda L. Solis, member of the U.S. House of Representatives.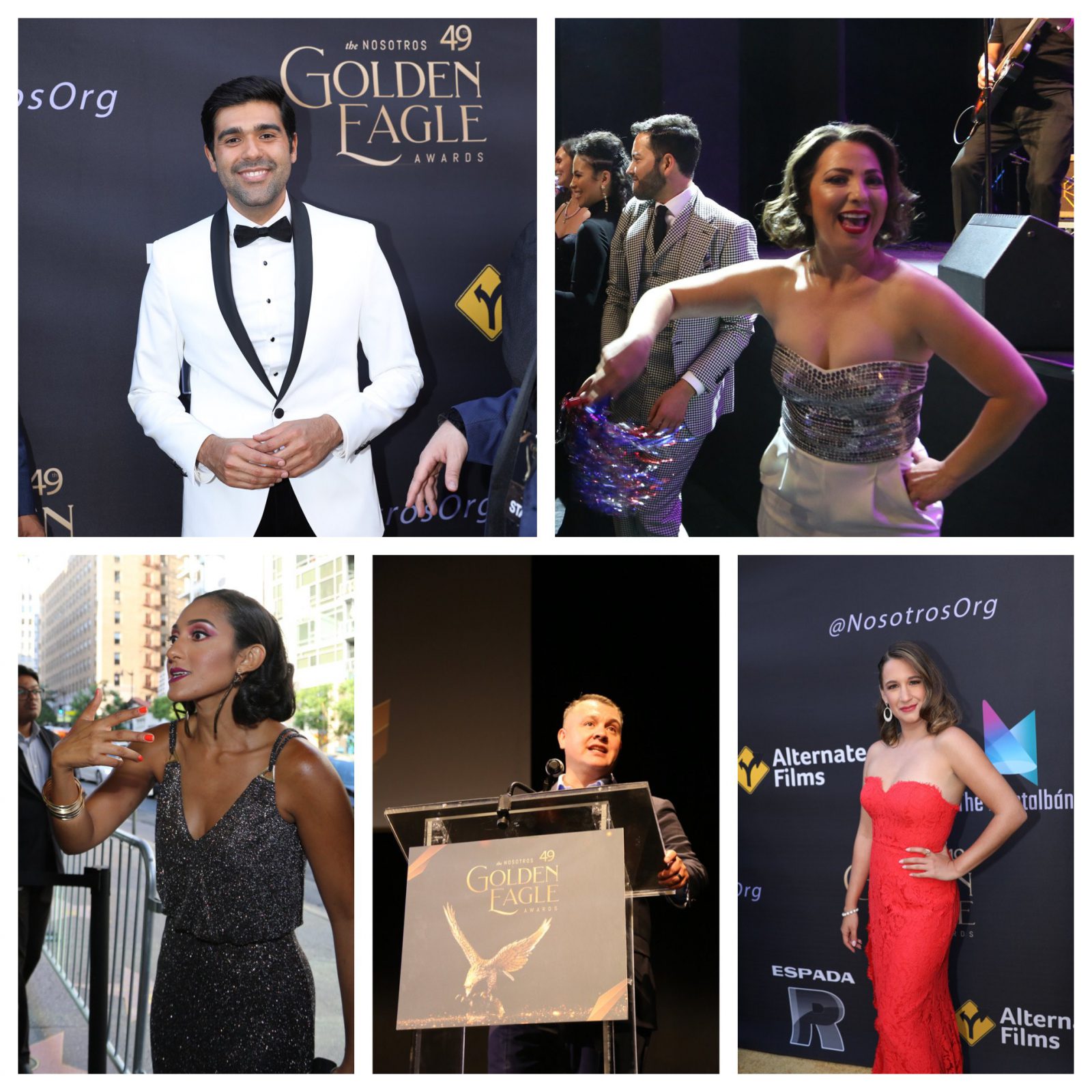 The Golden Eagle Awards
Over the years, Nosotros has provided an array of workshops, acting classes and mentorship programs, but most notable was The Nosotros Golden Eagle Awards.
Soon after its formation, in the summer of 1970, Nosotros hosted the first Nosotros Golden Eagle Awards, an awards ceremony with the sole purpose to be a celebration of individuals whose work is aligned with the organization's mission. It also saluted companies who have provided employment opportunities to Latinos/Hispanics in the performing arts. This ground-breaking and first of its kind "Latino" awards show, was held at the Hollywood Bowl with many iconic celebrity guest such as Desi Arnaz, Anthony Quinn and even Frank Sinatra!
More Info
In 2019 the Nosotros Golden Eagle Awards returned honoring Actors, Executives, and others for the "impact" they are making in representing the Latinx community to Hollywood and in changing how we're seen in media.
The 50th Annual Golden Eagle Awards was postponed in 2020 due to the Global Pandemic. It will return on August 17th, 2022 and it will be an even bigger and better prestigious event held in the same regard as the Oscars!
Where Are We Now
Since 2012 Nosotros participated and completed the renowned Annenberg Alchemy+ Leadership Program, which makes Nosotros an official Annenberg endorsed organization.

The Nosotros catalog of event and programs also includes a monthly Networking and Screening Series, a monthly meet up of sorts bringing the membership and supporters together in hopes of helping everyone expand their industry contacts. "The Power of Network is strong in this town" says Gonzales.
Their most current popular program is The Masterclass Series, a series designed to prepare our members for the challenging entertainment industry and to encourage them to approach their careers as artist with a solid business perspective.
"The Masterclass Series will serve as a wake-up call for actors," explained Natalia Ochoa, current Nosotros Vice Chair Member and founder of the soon to be launched LatinX Database. "It will allow members to have a better understanding on how to book jobs and what they have to do to step up their careers. We're breaking things down in simple terms and simultaneously opening doors. Sometimes that's all that we need to get to the next level."

For Ochoa spearheading the programs committee for Nosotros is part of personal journey.
"We want to have a positive portrayal of Latinos in media," said Ochoa. "It's a personal mission for myself. If all you see on TV is Latinos being criminals, we're always going to experience racism. That's not a fair judgment of the Latino culture; we have a lot to be proud of. We're one of the biggest minorities in the country. I would love to see the creation of more Nosotros programs so that we can showcase all the talent that's out there."
"Too many times we've seen people try to break into Hollywood and they're not really prepared to take on the challenges, whether that's getting a role or knowing how to conduct themselves during interviews," said J.M. Longoria, actor and Nosotros Board Secretary. "The most important thing that Nosotros tries to convey is that the Latino voice matters. The organization has gone through an arc, from helping change stereotypes to now focusing more so on empowering others to make sure they're putting their best foot forward."
Another popular 2019 launch for Nosotros was the "Ya Tu Sabes" Monologue Slam, which will now be held annually. It's a lively theatrical showcase designed to introduce some of the finest emerging diverse talent to an audience of industry guest, members, and the press.

"Members that get to be part of the showcase see their lives completely change," explained Ochoa, "They are seen by some of the highest ranking casting executives in town in a laid back fun environment on the rooftop venue of the Montalbán Theatre".
Our Hopes
As the organization continues to build its presence, programs and funding, Gonzales says that the Latino community can be its own catalyst for change.
"The way we change stereotypes is by not stereotyping ourselves," confessed Gonzales. "We need to learn how to create stories that are yes, meaningful, but also marketable and universal!"
Ultimately, Gonzales would like to see the development of different Nosotros chapters across the country in order to help extent various arts programs to help inspire future generations.
"Ricardo Montalbán was a visionary," said Gonzales, who believes the key to success for Nosotros is upholding the foundation that Montalbán built. "He knew he couldn't do it alone so he surrounded himself with talented people and was smart enough to know that the organization needed a home, which is what led to the theatre. Without having that foresight and vision, we wouldn't be where we are today. It all starts by planting a seed. I hope we continue to become the modern version of what Ricardo would have wanted."