Ya Tu Sabes Actor Submissions NOW OPEN!
ACTOR SELF-TAPE SUBMISSION RULES: Start July 13th 12pm PST – July 30th.
– Download, Read and choose from the 2021-YTS-Monologue-Booklet (Below)
-Choose up to two (2) monologues (both in one tape)
*Do not submit two tapes or you will be charged twice
-AUDITION TAPE LENGTH: 5 Min MAX
-SLATE: Name, Home Base, Monologue Name
-FILE NAME: Name_Home Base_Monologue Name
-All submissions are final and not eligible for a refund
-Accepting submissions from all Latinx backgrounds, all ages 18+ & over, sexual orientations, including gender fluid, non-confirming, and people with disabilities.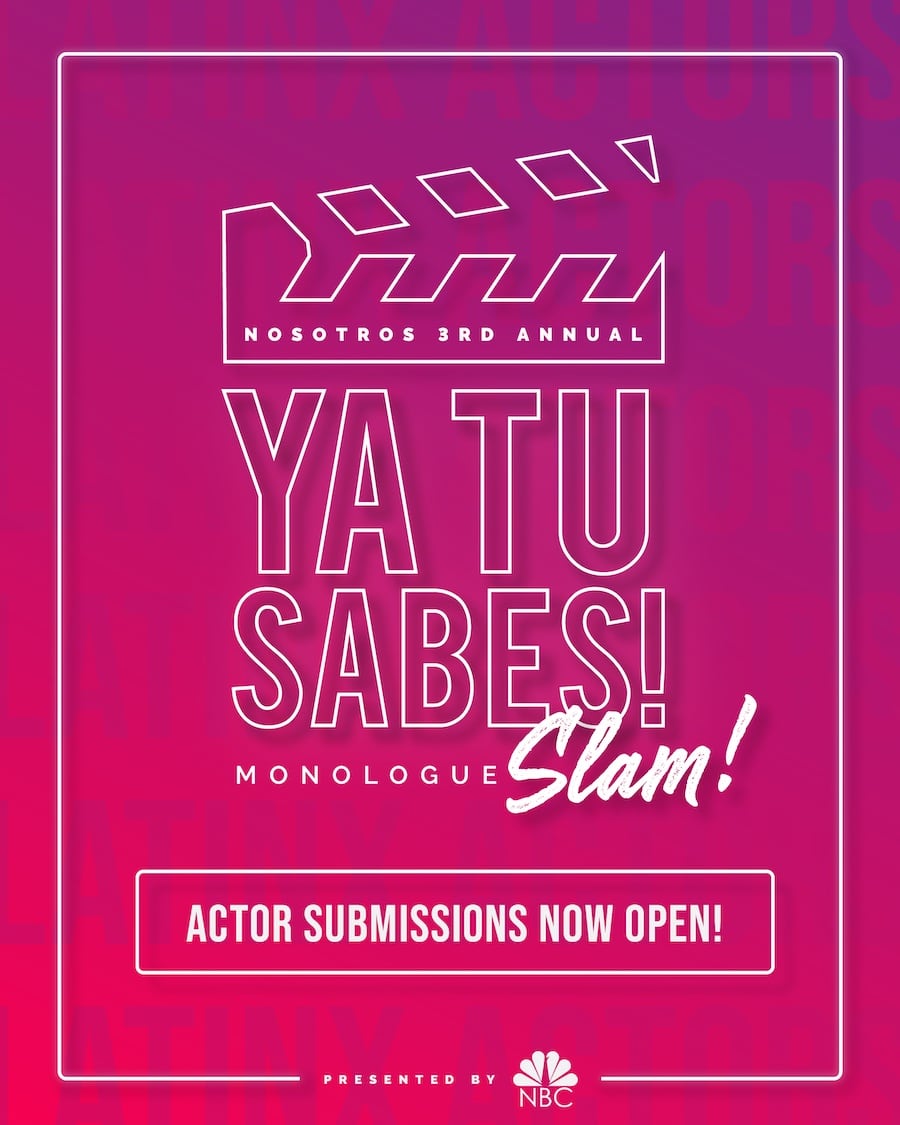 Note: Review Rules & Terms in filmfreeway.
Nosotros and NBC are proud to announce the TOP 24 Writer Semi-Finalists for the 2021 Ya Tu Sabes Monologue Slam! ⁠⁠
A big congratulations to each of you! Your hard work has paid off. We are so proud to have such amazing stories told by the LatinX community. ⁠⁠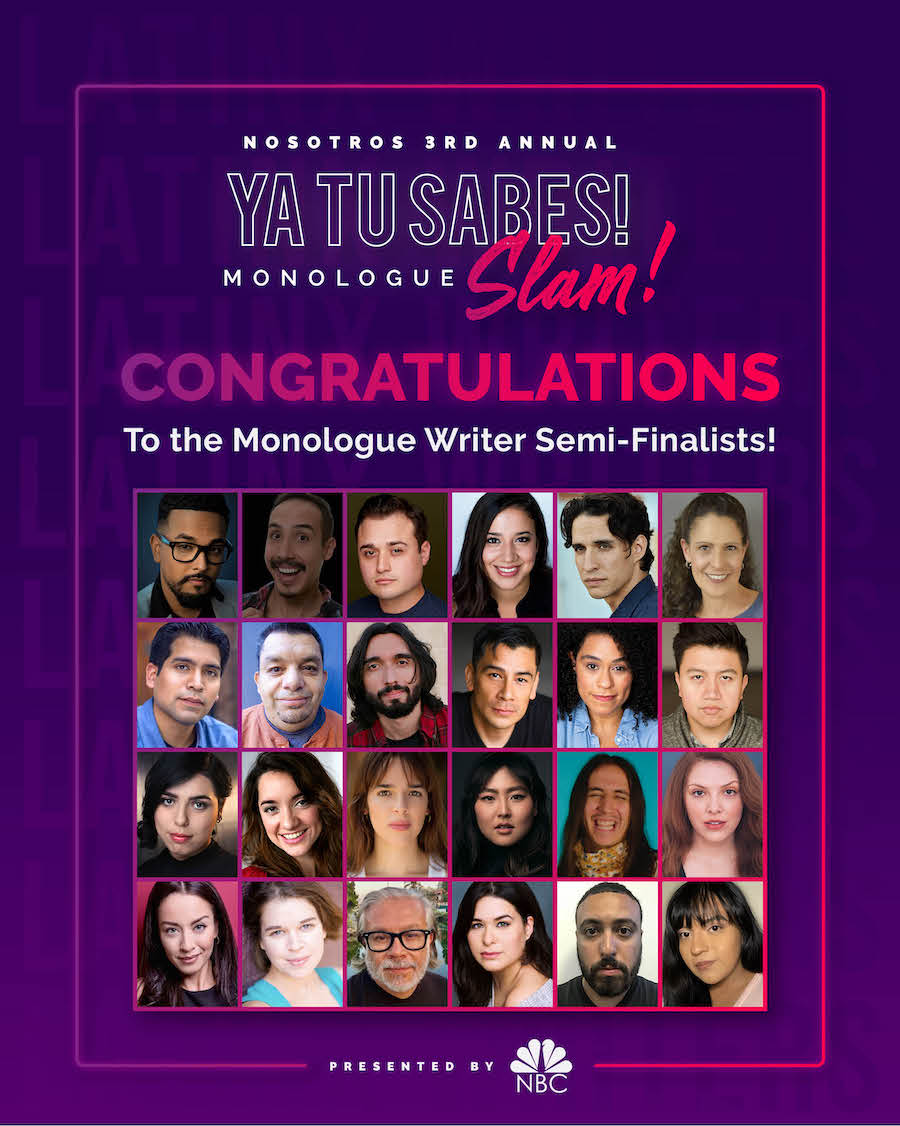 MEET THE TOP 24 WRITER SEMI-FINALISTS:⁠⁠
– Martha Preve – Reagan Lopez – Deborah Louise Ortiz – Maor Ohzana – Rolando Lepe- Diego Lanao – Chris Trovador – Annika Chavez – Christian Gnecco Quintero ⁠⁠- Sari Sanchez ⁠⁠- Mika Anne – Jose Maestas – Jose Alejandro – Sophie Goldstein – Verner Maldonado – Margarita Olmos – Krysta Gonzales – Victoria Villarreal – Tom Cendejas ⁠- Luis Escobar – Alexander Escobar – Carrie Herrera – Jorge Javier Calderon ⁠⁠- Josue Emmanuel Munoz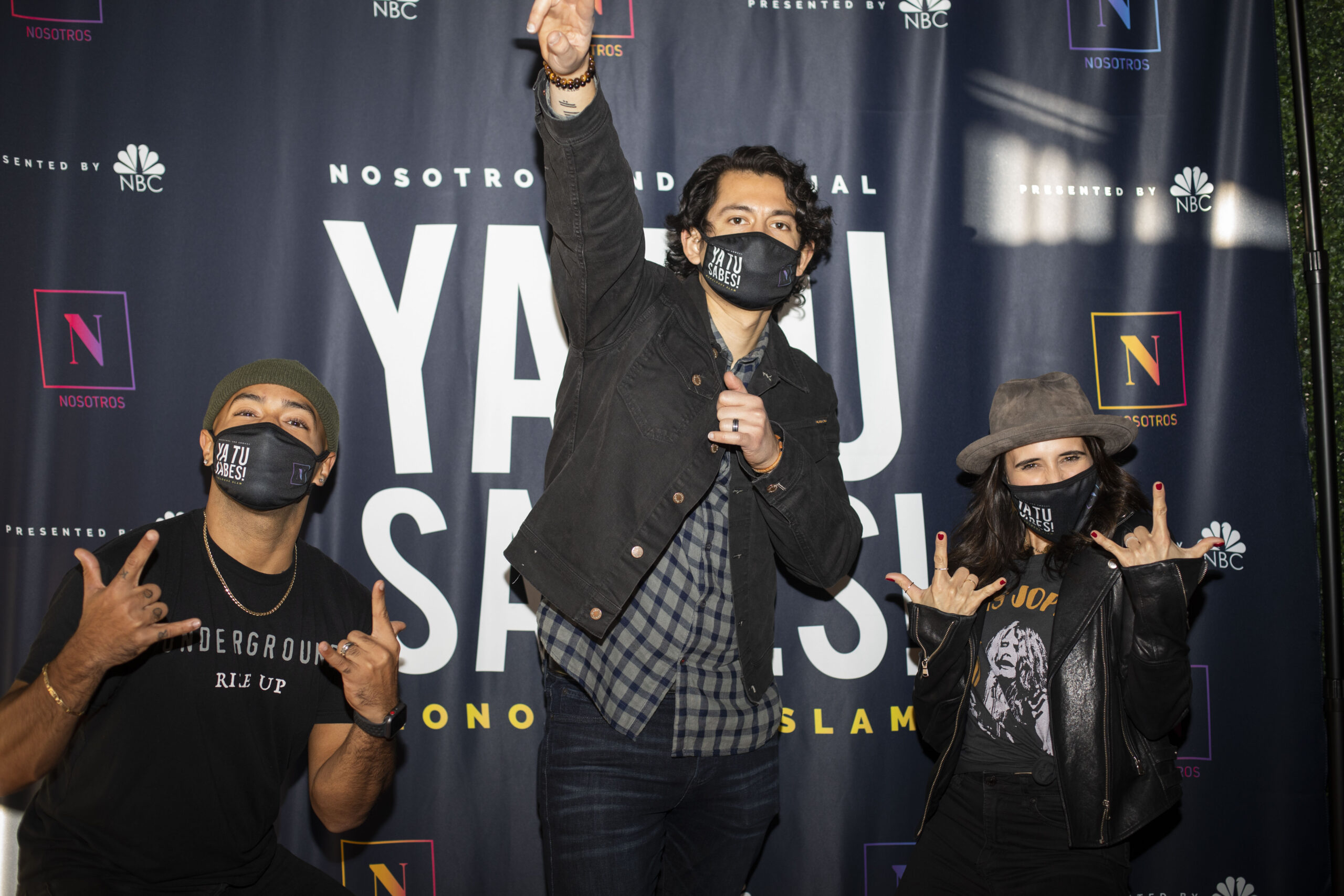 What is it?
YA TU SABES Monologue Slam presented by NBC
Ya Tu Sabesis an underground, pop-up monologue slam showcasing emerging diverse Latinx Writers and Actors. After a multi-round audition process, 12 Writers and 12 Actors will be selected by a panel of esteemed judges to perform original monologues at the Ricardo Montalbán Theatre in the heart of Hollywood in front of industry professionals, family, and friends.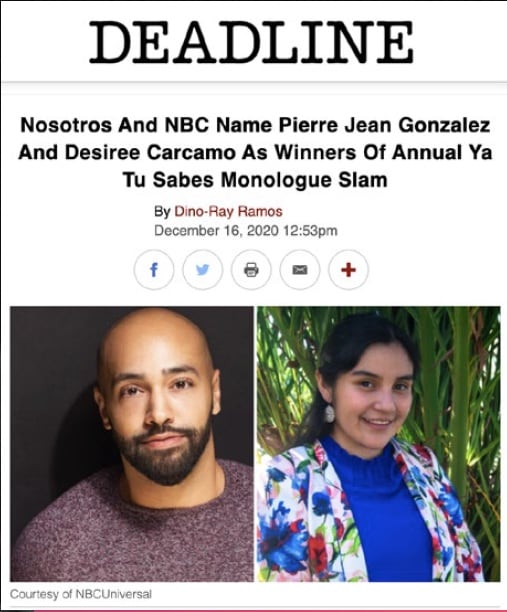 Our Purpose
The Latinx voice is underwhelming and misplaced in the entertainment industry.
Recent studies conducted by local universities have demonstrated that the Latinx voice and representation is underwhelming and misplaced in the entertainment industry. Nosotros recognizes that there is a severe disconnect and a largely negative perception of Latinx in Hollywood. Thus, we have created this program to give up-and-coming and established Latinx writers and actors a platform to be recognized for their talents by networks and studios. Many of our Nosotros members and participants have been directly called in for network and studio table readings, guest star and series regular roles, and producer sessions from being seen in our programs.
Celebrity Ambassadors
About Nosotros
Nosotros is the oldest Latino arts advocacy organization in the United States founded by Hollywood legend Ricardo Montalbán in 1970. We specialize in giving rising talent the platform and tools necessary to succeed in the entertainment industry whilst enhancing the image of Latinx in media.