Ponte Las Pilas & Make That Sketch Video!
June 25, 2020 @ 11:00 am

-

1:00 pm

$10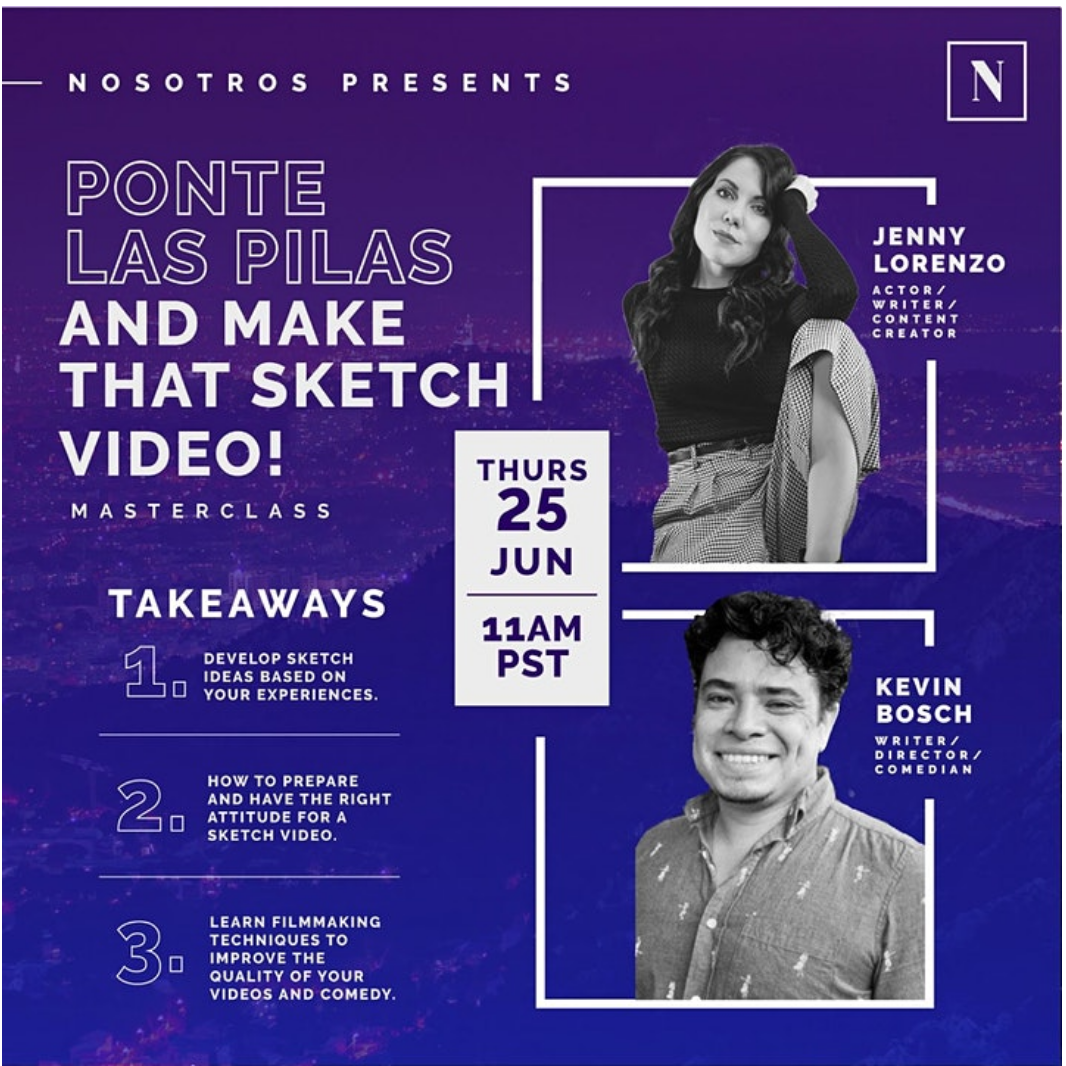 Free for all Nosotros Members. $10 for non-members – Become a member Today!
Learn the Do's and MUST Do's from top sketch comedy writers today!  In this class you will learn about demystifying the process of writing, producing and releasing funny, well made sketch comedy videos. If you're funny the video-making part can be easy. There are some very concrete steps you can take to successfully get through the production process and deliver your comedy to your audience.
Anybody has the potential to come up with and develop sketch ideas based on their own experiences.
Producing a sketch video can be easy as long as you prepare yourself and have the right attitude.
Simple filmmaking techniques can improve the quality of your videos and make your comedy feel more legit.
Instructor's Biographies:
Jenny Lorenzo is a Cuban-American actor, writer and content creator, born and raised in Miami, FL, who is known for her work on Aggressive Comix, We Are Mitú and is one of the original co-founders of BuzzFeed's Pero Like. Jenny became a viral sensation with her beloved Abuela character that has garnered millions of views online along with her relatable, Latino-based content seen through the comedic and nostalgic lens of a 1st generation Cuban-American. In other words, living in the hyphen. She was nominated for a Tecla Award in 2017 for "Best Content Creator for a Digital Network" and won "Best Character" for Abuela at the Tecla Awards 2018 and has performed to sold out audiences in both Los Angeles and Miami. Since going solo to focus on her own content in 2018, Jenny has since developed 6 new characters that are being very well received on her platforms and has worked with various brands such as Amazon, Netflix, DiGiorno, and Avengers: Infinity War to name a few. You can now catch Jenny in the recurring role of Lupe on Cartoon Network's Victor & Valentino.
Kevin Bosch is a Venezuelan/Colombian-American writer/director/comedian, raised in South Florida. Having attended film school in Miami, he previously was part of the film exhibition film industry, operating and programming film festivals and art house cinemas. After deciding to refocus on more creative work, Kevin moved to L.A., where he's been dedicated to producing digital content. He currently partners with Jenny Lorenzo to develop her roster of comedy characters and stories, helping produce, co-direct and collaborate on the writing of her interconnected series of sketch comedy videos.